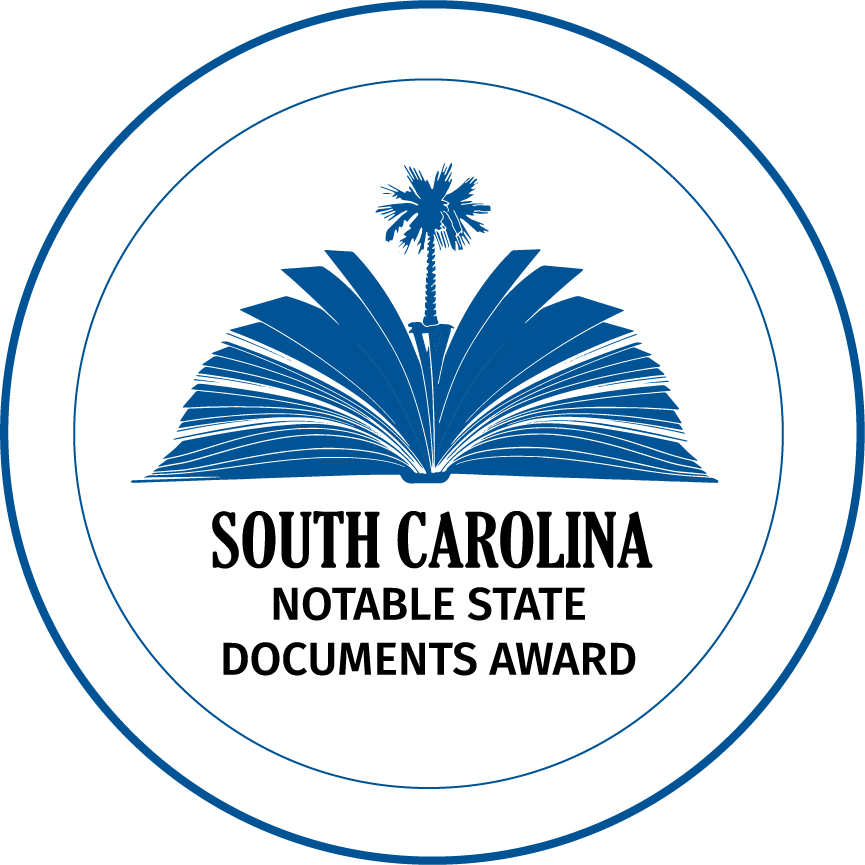 The Notable State Documents Awards Program began in 1991 to recognize exemplary state publications. In honor of Freedom of Information Day, awards are presented each March in a ceremony at the State Library. The awards recognize notable documents that were released in the previous calendar year. State agency publications received by the State Library qualify to be nominated. Nominations may be submitted by depository librarians, State Library staff, or state agency employees. Agency websites and apps also qualify as nominees.
The archive for previous winners is available in our digital State Documents Depository.
See photos of the award ceremony on the South Carolina State Library Flickr.
2023 Notable State Documents Awards Nominations
All nominations are reviewed by librarians at the State Library, and approximately 25 documents are selected as final candidates. Librarians familiar with depository collections and/or state agency representatives are invited to serve as judges. Our judges review the candidates and select the final winners on the basis of criteria such as the document's appeal to a large audience, or its ability to provide significant information to the public.
Criteria
Documents will be judged on a point basis according to the following criteria:
Extent of lasting reference and bibliographic value.
Extent to which the document appeals to a broad audience and is written in a lucid style.
Extent to which the document helps to enhance quality of life or provides information that assists in making informed decisions.
Extent to which the document contributes to an understanding of government processes, provides significant government information, or reflects the mission the agency.
Extent to which the publication displays an innovative presentation or a creative approach. Consideration is given to features, such as typography, design, quality of illustrations, use of maps, graphs, color, ease of use, and the extent to which document is generally pleasant to look through.
Extent to which the title reflects actual contents and achieves its purpose by doing what it says it will do.
Submission Guidelines
Please follow these guidelines when submitting your nomination:
The publication was produced by the State, a state agency or department, state-supported college or university, or by a firm which produced the publication under contract with or supervision of a state agency.
The publication was produced within the calendar year for which nominations are being accepted. However, a publication produced in a previous calendar year, but not received by the State Library until the current year may also be submitted for nomination.
The document, in either physical or electronic format, has been provided to the SC State Library for addition to the SC State Documents Depository.
Please note, submissions may also be sent to our state documents email address: StateDocuments@statelibrary.sc.gov.
Nominations for publications produced during 2022 will be accepted through December 31, 2022.
Enter your Nominations for the 2023 Notable State Documents Awards
2022 Notable State Documents Award Winners
Monographs (physical or born digital)
Serials
The Gold Star Journal, 2022 Edition | The Citadel, The Military College of SC.
The Gold Star Journal showcases the excellence of every academic department at The Citadel through the publication of cross-disciplinary, nonfiction papers. It encourages creativity and ingenuity through the publication of photographs and photo stories. This edition's featured papers are: China's Shadow War; Properties of a Sequence Derived from Another Sequence; Whistle Blowers: Heroes or Traitors; Carbon Nanotube Types and Application: An Examination and Analysis of Sensor Technology as it Relates to Autonomous Vehicle Design; Dangerous Technology: Modern Threats Posed by China and Russia; The Opioid Crisis and its Connection to Dentistry; Understanding the Impact of Quantum Technology on Modern Cryptography. The featured photographs are: The Flag Bearer; Lunar Winter; Boat in a Bottle; Blue Ridge Bridge; The Perspective; Steeple Chaser.

FY 2021 Annual Report | South Carolina State Housing Finance and Development Authority. (Note: This PDF must be downloaded from the Documents Depository page to open.)
The South Carolina State Housing Finance and Development Authority gives its annual report that includes a summary of statistics, performance measures, strategic plan, and report of programs of the Authority.

South Carolina Conservation Districts 2021 Annual Report | South Carolina Department of Natural Resources, South Carolina Conservation Districts.
The South Carolina Conservation Districts 2021 Annual Report is a comprehensive set of accomplishments by South Carolina's 46 Soil and Water Conservation Districts (Districts), the South Carolina Department of Natural Resources – Conservation Districts (SCDNR-CD), and the South Carolina Association of Conservation Districts (SCACD). This report highlights conservation implementation, economic impact, education, outreach, and dedicated service to the citizens and natural resources of South Carolina.

Manufacturing Incentives | South Carolina Department of Commerce.
South Carolina's performance-based tax incentives reward companies for job creation and investment. This booklet describes incentives available to qualified manufacturing companies. The booklet is provided to illustrate South Carolina's pro-business environment and to assist a company in its evaluation of South Carolina taxes and incentives.

Websites
South Carolina Department of Consumer Affairs Website: consumer.sc.gov I South Carolina Department of Consumer Affairs.
Established in 1974, the South Carolina Department of Consumer Affairs is the state consumer protection agency. The Department helps to formulate and modify consumer laws, policies and regulations; regulates the consumer credit marketplace; resolves complaints arising out of the production, promotion or sale of consumer goods or services in South Carolina, and promotes a healthy competitive business climate. A special highlight of the site is access to the weekly Wednesday Webinar series on a variety of topics related to ID theft, and scams and financial literacy.

KnowItAll.org I South Carolina Educational Television.
KnowItAll.org features over 9,000 mobile-friendly videos, worksheets, and interactives for preK-12. It also includes teacher lesson plans that meet SC education standards, along with topic-based content for one-to-one teaching and learning in classrooms. It is funded by the S.C. General Assembly through the K-12 Technology Initiative.

South Carolina Election Commission Website: scvotes.gov I South Carolina Election Commission.
Every Vote Matters. Every Vote Counts. The mission of the State Election Commission is to ensure every eligible citizen has the opportunity to register to vote and participate in fair and impartial elections with the assurance that every vote will count! The South Carolina State Election Commission helps uphold democracy by ensuring the election process is fair, impartial, and easily accessible for everyone in our state.