Image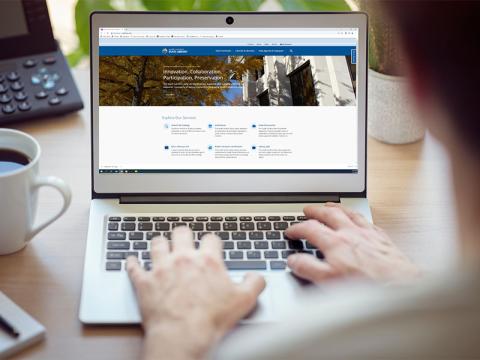 We are thrilled to announce the launch of our new website!
There have been many changes from our previous website including a completely redesigned user interface and layout to enhance your online experience. Please take some time to browse around and familiarize yourself with the new structure and also make use of the enhanced search function.
Some of the new website features include:
A new navigation structure organized by our website user's needs, whether you are:

New website, SmartSearch+, and catalog searches available by selecting the magnifying glass icon in the navigation bar.

A new breadcrumbs feature, below the navigation bar, that provides hierarchical links back to previous pages and the home page.

A new homepage with shortcuts to the most used and searched features, more timely and up-to-date news and events, and additional shortcuts to the most used and requested research features.

A new and better organized News page with the latest items and an archive feature.

A new footer with links to some of our public services, additional navigation, and the links to all of our social media accounts.

A searchable database of all South Carolina public libraries.

New State Library Employment and new Professional Development Library Jobs pages that are better organized and more easily searched.

More organized website sections to direct you to what your looking for more quickly.

Additionally, we have moved more information back into our website from external sites or sources, including ReadSC, our Center for the Book website; SCLENDS, our consortium of county libraries that share resources and circulating materials; and a large portion of our subject guides that have been re-integrated back into their respective website sections and pages to be more convenient and easily searched.
And, if you can't find what you are looking for, you can always ask one of our very helpful librarians by selecting the Ask a Librarian tab on the right side of the page.