Share:
Date:
Thursday, October 22, 2020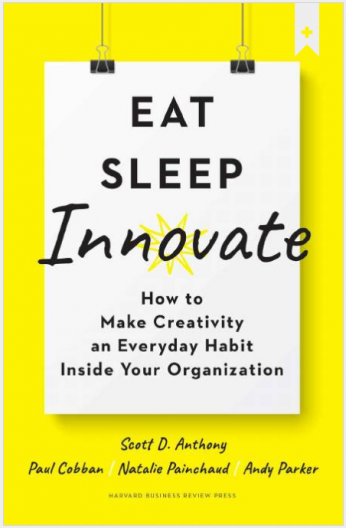 Did you know your South Carolina State Library card gives you access to ProQuest's Ebook Central? You can access a wealth of information right from your computer or mobile device! Use Ebook Central to quickly and easily find relevant ebooks and chapters; read online; search within the ebook; and highlight, take notes and bookmark pages in your online copy, stored on your bookshelf for you. You can also share your research with others, download ebooks and chapters to your laptop or mobile device, and more.
To access Ebook Central to find this new title and others, visit our Collections page and scroll to the bottom and login using the barcode number on the back of your South Carolina State Library card. If you don't have a card with us, visit our Get a Library Card page and register today.
Today's featured Ebook:
Eat, Sleep, Innovate : How to Make Creativity an Everyday Habit Inside Your Organization
Author: Anthony, Scott D.; Cobban, Paul; and more
Publisher: Harvard Business Review Press
Publication Year: 2020
ISBN: 9781633698376, 9781633698383
More new titles from Ebook Central:
Armed Citizens : The Road from Ancient Rome to the Second Amendment
Author: Shusterman, Noah
Publisher: University of Virginia Press
Publication Year: 2020
ISBN: 9780813944623
Dignity Rights : Courts, Constitutions, and the Worth of the Human Person
Author: Daly, Erin; Barak, Aharon
Publisher: University of Pennsylvania Press
Publication Year: 2020
ISBN: 9780812244403, 9780812207279
Everyday Bias : Identifying and Navigating Unconscious Judgments in Our Daily Lives
Author: Ross, Howard J.
Publisher: Rowman & Littlefield Publishers
Publication Year: 2020
ISBN: 9781442258655, 9781538142295
Good Guys : How Men Can Be Better Allies for Women in the Workplace
Author: Smith, David G.; Johnson, W. Brad
Publisher: Harvard Business Review Press
Publication Year: 2020
ISBN: 9781633698727, 9781633698734
Author: Harvard University Press, Harvard University
Publisher: Harvard University Press
Publication Year: 2020
ISBN: 9780674251656