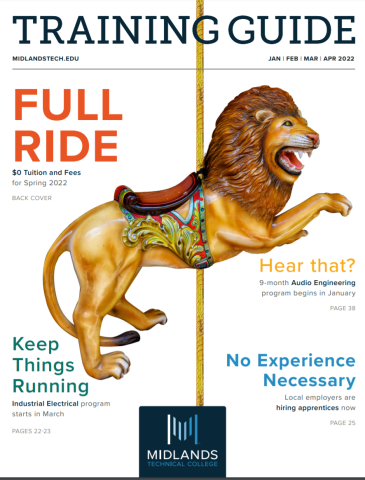 We're a little partial to lions given that two regal lion statues, named Sol and Edgar for former South Carolina politicians Solomon Blatt and Edgar Brown, frame our building. However, more than the cover of the Midlands Technical College Training Guide intrigues us. The student-centered content is color-coded and divided by school, making it easy to navigate. Concise infographics and career spotlights describe the benefits and requirements of each program. Thanks to this guide, the Spring term is simplified, making it our choice for the January 2022 featured document.
The complete January 2022 list of new South Carolina state documents is available. The South Carolina Digital State Documents Depository provides access to state agencies' publications. These publications provide citizens with crucial information about state government, including statistics, reports, and data on a wide variety of topics related to the state.
For more information about our documents depository, visit our online guide.