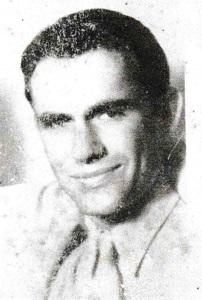 In partnership with the Faces of Margraten project, our librarians are researching 32 soldiers from South Carolina who have little to no information available about their lives. We were fortunate to connect with the family of SGT Clarence W. Cox from Abbeville.
Clarence W. Cox was born in Abbeville, South Carolina on January 29, 1924 to Thomas H. Cox Sr. and Lila J. (Stone) Cox. He was one of five children in the Cox family, siblings included his brothers Thomas and Davis, and sisters Sarah and Marilla. Clarence attended three years of high school before enlisting at Fort Jackson on March 23, 1943.
During World War II, SGT Cox served as a tail gunner in the 748th Bomber Squadron. He was part of the crew for a plane nicknamed "Tis me Sugar." The plane crashed at sea on August 24, 1944 while on a mission near Burg-Weimar, Germany. The crew is listed as "Missing In Action".
The name Clarence W. Cox is included on to the "Wall of the Missing" in Margraten Cemetery in the Netherlands. He received an Air Medal and a Purple Heart. Coincidently, the family that adopted Clarence's place on the Wall is also Cox. We are working to connect the two families.