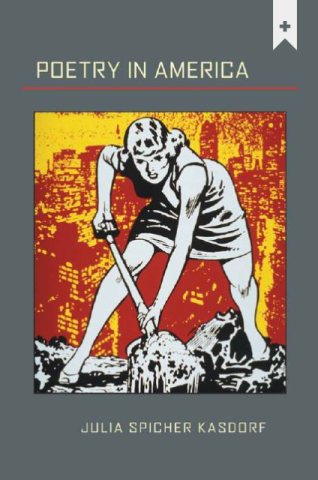 Did you know your South Carolina State Library card gives you access to ProQuest's Ebook Central? You can access a wealth of information right from your computer or mobile device! Use Ebook Central to quickly and easily find relevant ebooks and chapters; read online; search within the ebook; and highlight, take notes and bookmark pages in your online copy, stored on your bookshelf for you. You can also share your research with others, download ebooks and chapters to your laptop or mobile device, and more.
To access Ebook Central to find this new title and others, visit our Collections page and scroll to the bottom and login using the barcode number on the back of your South Carolina State Library card. If you don't have a card with us, visit our Get a Library Card page and register today.
Featured Ebook
Poetry in America by Julia Spicher Kasdorf. This book offers extravagantly formed lyric and narrative poems that function like works of social realism for our times: hard times, wartime, divorce, times of downturn and dissipated resources. Where, in such times, can poetry emerge, the book asks--and answers--again and again. Largely set in rural places and small towns, these poems are politically committed but deeply sensuous, emotionally complex and compassionate. They take up the everyday in meaningful ways, and deliver it with blunt force, yet not without hope or bright humor.
More featured titles from Ebook Central
Kadir, Djelal; Cabral de Melo Neto, João; and more
This bilingual anthology brings together a representative selection from more than a half century of this distinguished Brazilian poet's lifetime work. Along with previously translated poems are many others in English for the first time. The remarkable group of poets and translators includes Elizabeth Bishop, Alastair Reid, Galway Kinnell, Louis Simpson, and W. S. Merwin.


Hartman, Charles O.
A poet-programmer explores the intersection of reading, writing, and computing.


Guetebier, Amber; Knight, Brenda
Combining poetry with divination, this collection resurrects the ancient Greek art of Rhapsodomancy, or divining one's fortune or destiny through the use of poetry or verse.