Share:
Date:
Thursday, January 23, 2020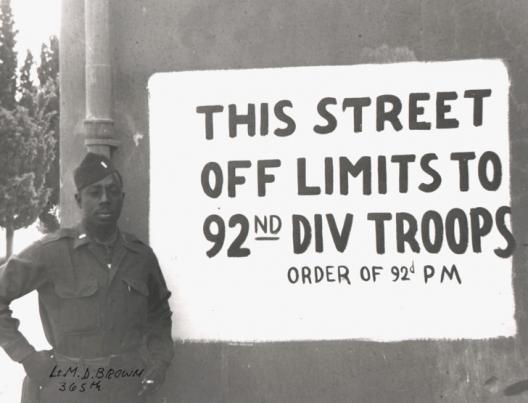 CANCELLED DUE TO INCLEMENT WEATHER
We will reschedule the presentation of "A War on Two Fronts" with Dr. Maggi Morehouse, Burroughs Distinguished Professor of Southern History and Culture at Coastal Carolina University and a daughter of an officer in the 93rd infantry division. Dr. Morehouse's research explores how African Americans in the 92nd and 93rd Army infantry divisions fought for racial equality during wartime, and then went on to be active participants in the Civil Rights Movement.
This event is free and open to public. Please register online to ensure seating.
The doors open at 5:00 p.m. for light refreshments and exhibit viewing, followed by Dr. Morehouse's presentation and book signing at 6:00 p.m.
This unique multimedia exhibit are the stories of soldiers on the front lines and demonstrate how segregation affected their training, service, and recognition. It documents the injustices faced by 1.4 million African Americans fighting during World War II, and makes a crucial addition to a less-heard story of the Greatest Generation. Historical photographs, interviews with soldiers, film, audio, and interactives, tell the compelling story of the life of a black soldier during WWII.
If you need a reasonable accommodation in order to participate, please contact Denbise Lyons, dlyons@statelibrary.gov.sc two weeks in advance. Personal listening devices, large print materials, and other accommodations are available by request.