Share: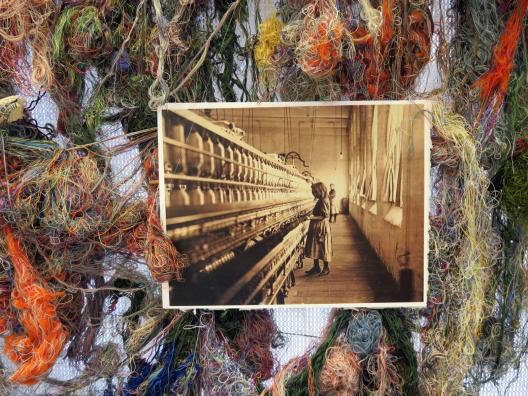 The textile industry had an enormous impact on South Carolina.  From the late nineteenth century through most of the twentieth century, the textile industry dominated the state's manufacturing.  In the SC State Library's exhibit "Threads: Gathering My Thoughts" historical images are used to honor South Carolina's rich textile legacy and teach how the textile industry shaped cultures, demographics and economics in our state. This exhibit includes the artwork of professional studio artist, Susan Lenz, whose work has been juried into numerous national and international exhibits, featured in solo shows all over the United States, and shown on television and in print. 
By combining historical SC textile images with the creativity of Ms. Lenz, thread is used to symbolize the former abundance in Southern textile mills and a physical manifestation of millions of thoughts running through anyone's brain.  This exhibit explores an ongoing engagement - and entanglement - with fibers.  
This exhibit is open to the public from September 18 to October 27, 2017 (8:30am - 5:00pm, Monday-Friday).