Share: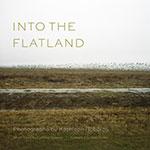 Join us on Wednesday, June 10 from noon to 1:00 p.m. for Speaker @ the Center featuring Kathleen Robbins, Into the Flatland, published by the University of South Carolina Press.
Capturing the rich contrasts of the land and the intimate history of generations in the Mississippi Delta, Into the Flatland, by Kathleen Robbins, is a series of photographs documenting the terrain, people, and culture of her ancestry. The photographer returned to her family's farm Belle Chase as an adult in 2001 after completing graduate studies in New Mexico. She and her brother then lived there for nearly two years, breathing life back into family properties that had been long dormant.
In this series, which won the PhotoNOLA prize in 2011, Robbins highlights the diversity of the landscape of the Delta, from expansive, dusty cotton fields to green, vibrant swamps. Her photographs capture the people and the architecture that are present on the land and also reminiscent of a time long past, before the mechanization of farming and the exodus of her people from their native soil. The presence of Robbins's family in some of her photographs brings an intimacy to her portrait of the Delta and shows the tension between past and present.
Books will be available for purchase and autographing. All Speaker @ the Center programs take place from noon to 1:00 p.m. at the South Carolina State Library located at 1500 Senate St., Columbia. Speaker @ the Center is FREE and open to the public. Feel free to bring your lunch. No registration required.
The South Carolina Center for the Book is the South Carolina Affiliate of the Library of Congress Center for the Book and is a cooperative project of the South Carolina State Library, the University of South Carolina School of Library and Information Science, and The Humanities CouncilSC.