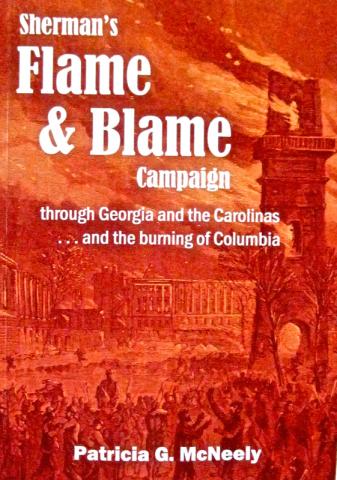 Join us for an author talk and book signing on Thursday, March 19, 2015 from noon to 1:00 p.m. for Sherman's Flame & Blame Campaign by Patricia G. McNeely.
General William T. Sherman created a new form of physical, economic and psychological "total warfare" against civilians and private property in Georgia and the Carolinas that he readily admitted would be violent and cruel. "If the people raise a howl against my barbarity and cruelty, I will answer that war is war, and not popularity-seeking," he said. "If they want peace, they and their relatives must stop the war."
Patricia G. "Pat" McNeely is Professor Emerita at the University of South Carolina where she taught reporting in the School of Journalism. Before joining the faculty at USC, McNeely was a reporter and editor for The State and The Columbia Record in Columbia, S.C., and The Greenville News (S.C.). She is the co-author of Knights of the Quill: Confederate Correspondents and their Civil War Reporting, Fighting Words: A History of the Media in South Carolina, and Palmetto Press: A History of Newspapers in South Carolina.
Books will be available for purchase and autographing. All Speaker @ the Center programs take place from noon to 1:00 p.m. at the South Carolina State Library located at 1500 Senate St., Columbia. Speaker @ the Center is FREE and open to the public. Feel free to bring your lunch. No registration required.
The South Carolina Center for the Book is the South Carolina Affiliate of the Library of Congress Center for the Book and is a cooperative project of the South Carolina State Library, the University of South Carolina School of Library and Information Science, and The Humanities CouncilSC.