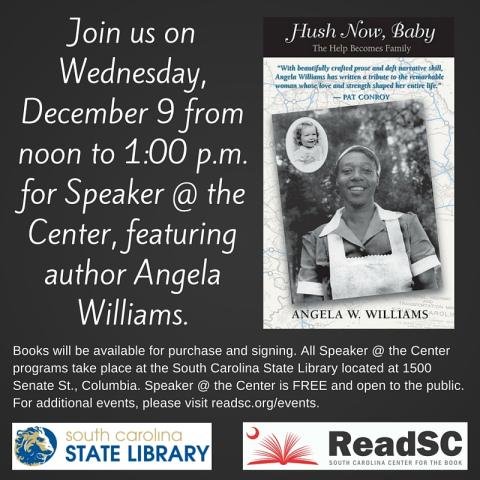 Join us on Wednesday, December 9 from noon to 1:00 p.m. for Speaker @ the Center, featuring author Angela Williams. Hush Now, Baby (Texas Review Press) is the story of how a little white girl climbed out of an uneasy childhood in the segregated South…on the backbone of a black woman who loved her unabashedly. A host of African-American women permeated Southern families. One of those stalwart women was Eva Aiken, a central figure in the author's life from her birth…until Eva staged a sit-in at the girl's wedding.
The story captures the glorious early years of the Lowcountry South Carolina family then graphically depicts its unraveling. Eva holds them together. The family and the country's parallel struggles converge. The author lives in bubble-wrap until Civil Rights issues escalate. This story is told without pathos and with graceful restraint—the Southern way.
"With beautifully crafted prose and deft narrative skill, Angela Williams has written a tribute to the remarkable woman whose love and strength shaped her entire life." –Pat Conroy
Williams' roots have remained deep in the Lowcountry of South Carolina—where the strength and values of Eva Aiken permeated her life. The middle of three children of Clara Lee and Russell Williams, early on Angie loved words and reading. At Queens College she began writing about Eva, who named her "Baby." After graduate school at Duke, she taught English from the California coast to the Maryland shore, writing snippets of Eva along the way. She landed at The Citadel in Charleston for 20 years, calling on Eva's wisdom time and again.
Books will be available for purchase and signing. All Speaker @ the Center programs take place at the South Carolina State Library located at 1500 Senate St., Columbia. Speaker @ the Center is FREE and open to the public.
For additional Speaker @ the Center events, please visit readsc.org/events.