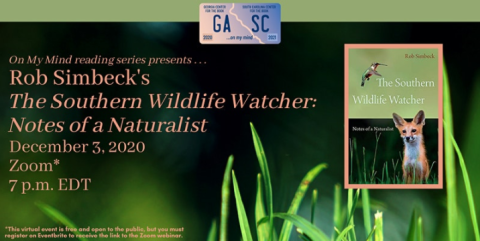 Join us on December 3, 2020, at 7:00 p.m., for an evening with Rob Simbeck, who will be reading for the third event in our On My Mind series hosted by the Georgia Center for the Book and ReadSC - The South Carolina Center for the Book.
Rob's book The Southern Wildlife Watcher: Notes of a Naturalist is a colorful look at thirty-six common and not-so-common animals found in the southeastern United States—from the hummingbird to the bald eagle and from the bullfrog to the bobcat. Rob Simbeck, one of the Southeast's most widely read naturalists, combines a poet's voice with a journalist's rigor in offering readers an intimate introduction to the creatures around us.
This virtual event is free and open to the public, but you must register on Eventbrite in order to attend. Through delightful storytelling, each vignette offers accessible information supported by quotes from noted naturalists and biologists. Simbeck covers habitat, diet, mating and reproduction, environmental challenges, and even folklore in outlining the lives of insects and other invertebrates, birds, mammals, reptiles, amphibians, crustaceans, and fish. The Southern Wildlife Watcher is a refresher course and handbook for veteran nature lovers, an introduction for young readers, and fireplace or bedtime reading for those wanting to reflect on nature's bounty.
For questions about this series, please contact Ally Wright at wrighta@dekalblibrary.org.