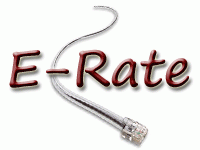 Agencies seek to increase knowledge and confidence among school and library applicants participating in the E-Rate program.
Columbia, S.C. – The South Carolina State Library and the South Carolina Department of Administration's Division of Technology Operations will partner together to host a quarterly virtual meeting for schools and libraries who seek to participate in the federal E-Rate program. The first quarterly E-Rate virtual meeting will take place Tuesday, Jan. 30, 2018, at 11 a.m.
The Universal Service Fund, created by the ratification of the Telecommunications Act of 1996, established a framework for schools and libraries to receive discounts on internet and voice services. Today, the program is commonly known as "E-Rate" and provides more than $41 million in federal reimbursements to school districts and library systems in South Carolina for a variety of products and services such as internet service, wireless access points and other network hardware infrastructure.
The quarterly E-Rate virtual meeting will provide schools and libraries with an additional opportunity to learn what products and services are E-Rate eligible, how to apply for E-Rate eligible products, and services and meet the numerous compliance requirements. With increased awareness of the application processes of E-Rate and available assistance for completing applications, South Carolina school districts and library systems can increase their E-Rate participation.
"We want all South Carolina school districts and library systems to have the understanding and confidence to submit E-Rate applications and be successful," said Andrew Epting, State E-Rate Coordinator. The current E-Rate training model consist of annual, on-site E-Rate training around the state, monthly E-Rate Newsletters, weekly guidance from the federal E-Rate management company, and technical assistance as needed. "We believe that a quarterly E-Rate virtual meeting will enhance our training model by allowing participants the opportunity to ask questions, express concerns and hear from other applicants about their experience with the E-Rate program" Epting said.
The quarterly E-Rate virtual meeting is scheduled to take place on the last Tuesday of the first month of each quarter and last for approximately one hour. Virtual meetings in 2018 will take place on January 30, 2018, April 24, 2018, July 31, 2018, and October 30, 2018. Employees of South Carolina school districts, library systems and charter schools are eligible to participate in the call.
For more information and to register, please visit the State Library's event calendar at statelibrary.sc.libcal.com.