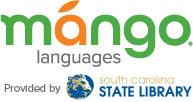 Attention South Carolina public library staff: When's the last time you logged in to Mango? If it's been a while, join us for a refresher webinar right at your desk on Mango's coolest features on Monday, February 27, 2017 from 11:00 a.m. to noon.
You'll even remember how easy it is to promote Mango to your patrons and how to get your community excited about language learning! After registering, you will receive a confirmation email containing information about joining the webinar.
Register today for this great and FREE learning opportunity.