Share: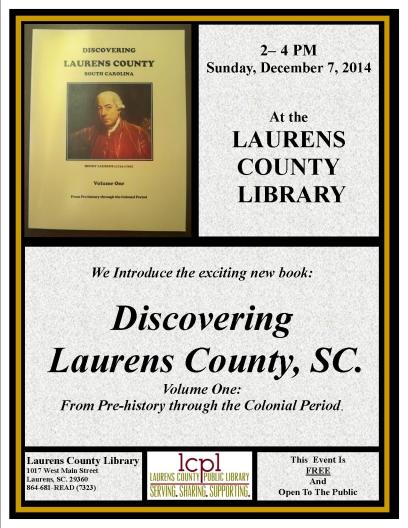 The Laurens County Library will host a reception on Sunday, December 7, from 2:00 p.m. – 4:00 p.m. to introduce an exciting new book, Discovering Laurens County, SC. Volume One: From Pre-history through the Colonial Period.
Assembled by a team of local historians, this is the very first in a series of books that will document the history of Laurens County. This first volume of the complete history begins with geologic and climatic changes that produced the land and goes through times of conflict and divided allegiances of the colonial period.
Those attending the reception will be able to purchase copies and have them signed by the authors. People who have an interest in Laurens County and who enjoy history will certainly want to attend this free event.
For more information, please contact the Laurens County Public Library System, 1017 West Main Street, Laurens, SC. 29360, 864-681-READ (7323).