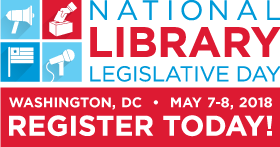 Join your colleagues from across the country as an advocate for libraries as part of the South Carolina Library Association's National Library Legislative Day delegation. Be part of the SCLA team that will make a difference for libraries by visiting our legislators in our nation's capital. National Library Legislative Day is a two-day advocacy event held in Washington, D.C. every year. As an attendee you will spend your first day learning effective advocacy techniques and what are the current key library issues, like LSTA funding or net neutrality. That evening you will have an opportunity to attend a reception on Capitol Hill. On the second day, you will accompany your state's delegation to meet with your elected officials to tell them about the importance of libraries in their communities. For more information, go ALA's National Library Legislative Day webpage at http://www.ala.org/advocacy/advleg/nlld.
When is it?
May 7th- 8th, 2018, at the Liaison Hotel in Washington, D.C.
Who can attend?
Library advocates are welcome to become part of this year's South Carolina delegation. Whether you've been advocating for two days or twenty years, you have something important to contribute. To become part of the delegation, contact Jonathan Newton, SCLA Legislative Committee, at jnewton@greenvillelibrary.org for more information.
How do I sign up?
Visit the event page for registration information. Registration this year is $75 and includes a continental breakfast, entry into a reception held on Capitol Hill, and a folder full of briefing materials, talking points, and information
SCLA will cover the $75 registration fee if you register by February 23rd, although registration is open through April 13th. The deadline for ALA rates at the Liaison hotel is April 13th.
To register and SCLA pay for your registration, use the online PDF form at http://www.ala.org/advocacy/sites/ala.org.advocacy/files/content/NLLD18.PDFform_2.pdf. Save this fillable PDF form to your desktop and enter your information. Save your completed registration form and e-mail it to SCLA Executive Secretary Donald Wood (dwood@capconsc.com).
To learn more about the event, check out our FAQ page or reach out to Lisa Lindle at llindle@alawash.org if you have any questions.