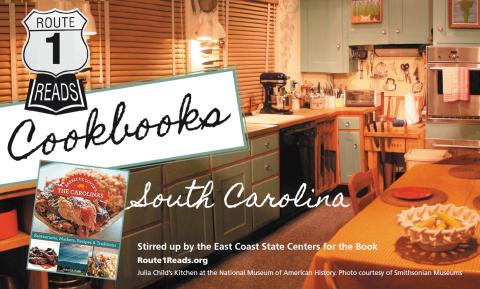 The State Centers for the Book linked by US Route 1 - extending from Fort Kent, Maine, to Key West, Florida - are joining together to promote books that illuminate important aspects of their states/commonwealths for readers traveling the major and meandering highway.
For 2019, ReadSC's Route1Reads selection is Robert F. Moss' The Barbecue Lover's the Carolinas: Restaurants, Markets, Recipes and Traditions. This is an essential reference tool for those looking to immerse themselves in the culture of Carolina-style barbecue. Perfect for both the local BBQ enthusiast and the traveling visitor alike, you will find the history of the BBQ culinary style where to find––and most importantly consume––the best of the best local offerings; regional recipes from restaurants, chefs, and pit masters; information on the best barbecue-related festivals and culinary events; plus, regional maps and full-color photography.
The full list of featured books is listed here, in geographical order from North to South:
MAINE — The Lost Kitchen: Recipes and a Good Life Found in Freedom, Maine by Eric French
NEW HAMPSHIRE — Black Trumpet: A Chef's Journey Through Eight New England Seasons by Evan Mallett
MASSACHUSETTS — Flour: Spectacular Recipes from Boston's Flour Bakery + Cafe by Joanne Chang
RHODE ISLAND — Providence & Rhode Island Chef's Table: Extraordinary Recipes From the Ocean State by Linda Beaulieu
CONNECTICUT — A History of Connecticut Food by Eric D. Lehman and Amy Nawrocki
NEW YORK — Storied Bars of New York: Where Literary Luminaries Go To Drink by Delia Cabe
PENNSYLVANIA — The Cheesy Vegan by John Schlimm
NEW JERSEY — Dishing Up New Jersey: 150 Recipes from the Garden State by John Holl
DELAWARE — Valerie's Home Cooking: More than 100 Delicious Recipes to Share with Friends and Family by Valerie Bertinelli
MARYLAND — The Cooking Gene: A Journey Through African American Culinary History in the Old South by Michael W. Twitty
WASHINGTON, D.C. — Sweet Home Café Cookbook by Jessica Harris
VIRGINIA — The Imbible: A Cocktail Guide for Beginning and Home Bartenders by Micah LeMon
NORTH CAROLINA — Holy Smoke: The Big Book of North Carolina Barbecue by John Shelton Reed
SOUTH CAROLINA — Barbecue Lover's the Carolinas: Restaurants, Markets, Recipes & Traditions by Robert F. Moss
GEORGIA — SOUL: A Chef's Culinary Evolution in 150 Recipes by Todd Richards
FLORIDA — Field to Feast: Recipes Celebrating Florida Farmers, Chefs, and Artisans by Katie Farmand
More details about each state's selection and a map of participating states can be found at Route1Reads.org.