Share: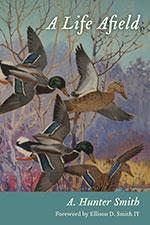 Join us for an author talk and book signing by A. Hunter Smith, author of A Life Afield.  Smith's book of short stories is about hunting and ramblings in the Southern woods and waters, revealing evolving attitudes toward our natural world. It is published by USC Press.
Smith is a native South Carolinian who has hunted and fished across the Southeast, the nation and beyond for the last forty-three years. For thirty years he worked as a hunting and fishing guide and now writes outdoor stories that stem from his experiences afield. He has been published regularly in outdoor magazines and journals, both regionally and nationally including South Carolina Wildlife magazine and Gray's Sporting Journal.
When: Wednesday, February 25, 2015 from noon – 1:00 p.m. Where: South Carolina State Library, 1500 Senate Street, Columbia
Books will be available for purchase and signing. All Speaker @ the Center programs take place from noon to 1:00 p.m. at the South Carolina State Library. Speaker @ the Center is free and open to the public. The South Carolina Center for the Book is the South Carolina Affiliate of the Library of Congress Center for the Book and is a cooperative project of the South Carolina State Library, the University of South Carolina School of Library and Information Science, and The Humanities CouncilSC.