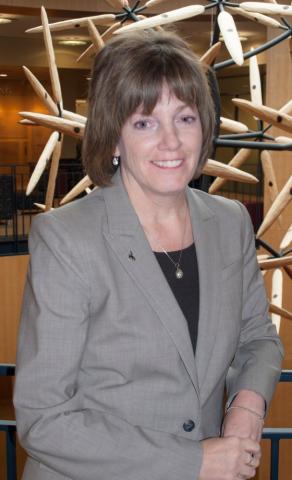 An administrator with degrees in library science, public administration and American studies has been named dean of libraries at Clemson University. Mary Margaret "Maggie" Farrell, dean of libraries at University of Wyoming since 2002, will join Clemson in mid-July.
"As the libraries' chief academic and administrative officer, Maggie will provide vision and leadership for the libraries and play an important role in Clemson's 2020Forward plan," said Bob Jones, Clemson executive vice president and provost. "Maggie's exceptional talent and impressive track record are perfectly aligned with our needs and aspirations."
Farrell earned master's degrees in public administration from Arizona State University and in library science from the University of Arizona. Her bachelor's degree in American Studies is from the University of Missouri-Kansas City. She achieved Russian linguist certification from the Defense Language Institute in Monterey, California.
Farrell also has served as associate dean of libraries at Montana State University, head of government publications at the University of Nevada-Las Vegas and librarian at Arizona State University and the Scottsdale Public Library.
"It is an honor to be selected as the new dean of libraries at Clemson University and I look forward to working with outstanding staff and librarians in supporting the teaching and research needs of Clemson students and faculty," she said.
The Clemson University libraries provide access to more than 1.3 million books, 480 databases, 45,000 journals and numerous unique digital collections.
The main library, R.M Cooper Library, is best known for its state-of-the-art technology, including the Brown Digital Resources Laboratory, a "classroom of the future." Funded by the National Science Foundation, the United States Department of Energy and Dell Computers, this learning lab offers students and researchers from all academic disciplines the very latest technologies in high-performance computing, remote collaboration and information visualization.
Cooper Library will house the Adobe Digital Studio. This collaboration, the first of its kind between Adobe and a university, will allow campus-wide access to Adobe's world-class Creative Cloud tools and access to the digital publishing suite platform to enable academic and professional publications.
Cooper Library is one of the top gathering places for students, with an average of 8,000 visitors a day.
Clemson University ranks No. 20 among the country's 173 national public universities.