Share: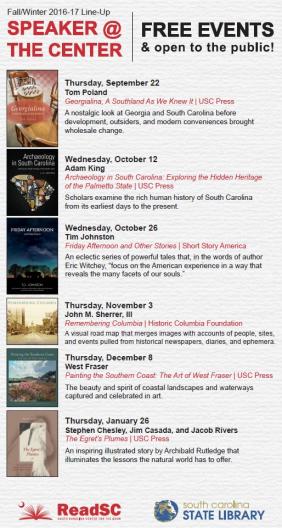 Join us for an exciting line-up of FREE monthly author talks and book signings at the SC State Library.
September 22 – Tom Poland, Georgialina, A Southland As We Knew It – USC Press. A nostalgic look at Georgia and South Carolina before development, outsiders, and modern conveniences brought wholesale change.
October 12 – Adam King, Archaeology in South Carolina: Exploring the Hidden Heritage of the Palmetto State - USC Press. Scholars examine the rich human history of South Carolina from its earliest days to the present.
October 26 – Tim Johnston, Friday Afternoon and Other Stories. An eclectic series of powerful tales which, in the words of author Eric Witchey, "focus on the American experience in a way that reveals the many facets of our souls.
November 3 - John M. Sherrer, III,  Remembering Columbia - Historic Columbia Foundation. A visual road map that merges images with accounts of people, sites, and events pulled from historical newspapers, diaries, and ephemera.
December 8 – West Fraser, Painting the Southern Coast: The Art of West Fraser – USC Press. The beauty and spirit of coastal landscapes and waterways captured and celebrated in art.
January 26 - Stephen Chesley, Jim Casada, Jacob Rivers, The Egret's Plumes – USC Press. An inspiring illustrated story that illuminates the lessons the natural world has to offer.
All programs take place from noon to 1:00 p.m. at the South Carolina State Library, 1500 Senate Street, Columbia. Please visit statelibrary.sc.gov or call 803-734-8666 for parking information or directions. For more information about Speaker @ the Center, please visit ReadSC.org. Speaker @ the Center is FREE and open to the public. Books will be available for purchase and signing. For more information, please contact Dr. Curtis Rogers, Communications Director at 803-734-8928 or crogers@statelibrary.sc.gov.