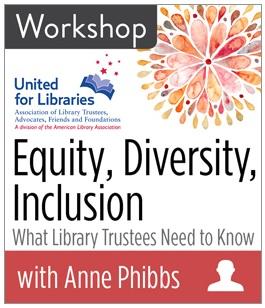 This workshop will last 60 minutes and take place on Tuesday, April 30, 2019, in two identical sessions:
Morning Session
10:00am Eastern/9:00am Central/8:00am Mountain/7:00am Pacific
Afternoon Session
4:00 p.m. Eastern/3:00 p.m. Central/2:00 p.m. Mountain/1:00 p.m. Pacific
United for Libraries Statewide Group Members in in Delaware, Maryland, Michigan, Nebraska, South Carolina, South Dakota, and Texas are entitled to FREE registration by using this form.
Equity, diversity, and inclusion (EDI) impacts all communities and all aspects of librarianship. Library Boards of Trustees have an important role in supporting EDI and related initiatives. This workshop will help trustees and library directors understand how to incorporate EDI into policy development, strategic planning, funding initiatives, board development, and more. Anne will present a variety of interactive scenarios in which EDI issues are a factor, with time for Q&A and discussion. In this event, Anne Phibbs, PhD, Founder and President of Strategic Diversity Initiatives, will give a basic introduction to EDI and discuss what library trustees and boards need to know about EDI.
Anne Phibbs, PhD, is the founder and president of Strategic Diversity Initiatives. Anne brings more than 25 years of experience helping organizations, including libraries and library associations, advance their equity, diversity, and inclusion goals. She is adept at assessing an organization's strengths and challenges and tailoring her approach to its context, culture, and goals. With extensive experience in training, teaching, curriculum development, and training of trainers, Anne has delivered hundreds of workshops and classes for thousands of participants in corporate, government, higher education, nonprofit, healthcare, and faith community settings.
Learning Outcomes
After participating in this event, you will:
Understand the importance of EDI in the library and community.
Learn how to implement EDI principles in policy development, strategic planning, funding, board development, and other areas relevant to library boards of trustees.
Be able to contribute to EDI work in the library and beyond.
Please see the press release for full details.