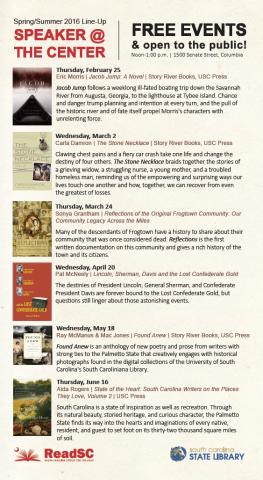 The South Carolina State Library's Center for the Book is pleased to announce its upcoming author line up for the Speaker @ the Center series. Download the flier here (jpg).
Thursday, February 25 - Eric Morris | Jacob Jump: A Novel | Story River Books, USC Press
Jacob Jump follows a weeklong ill-fated boating trip down the Savannah River from Augusta, Georgia, to the lighthouse at Tybee Island. Chance and danger trump planning and intention at every turn, and the pull of the historic river and of fate itself propel Morris's characters with unrelenting force.
Wednesday, March 2 - Carla Damron | The Stone Necklace | Story River Books, USC Press
Clawing chest pains and a fiery car crash take one life and change the destiny of four others. The Stone Necklace braids together the stories of a grieving widow, a struggling nurse, a young mother, and a troubled homeless man, reminding us of the empowering and surprising ways our lives touch one another and how, together, we can recover from even the greatest of losses.
Thursday, March 24 - Sonya Grantham | Reflections of the Original Frogtown Community: Our Community Legacy Across the Miles
Many of the descendants of Frogtown have a history to share about their community that was once considered dead. Reflections is the first written documentation on this community and gives a rich history of the town and its citizens.
Wednesday, April 20 - Pat McNeely | Lincoln, Sherman, Davis and the Lost Confederate Gold
The destinies of President Lincoln, General Sherman, and Confederate President Davis are forever bound to the Lost Confederate Gold, but questions still linger about those astonishing events.
Wednesday, May 18 - Ray McManus & Mac Jones | Found Anew | Story River Books, USC Press
Found Anew is an anthology of new poetry and prose from writers with strong ties to the Palmetto State that creatively engages with historical photographs found in the digital collections of the University of South Carolina's South Caroliniana Library.
Thursday, June 16 - Aïda Rogers | State of the Heart: South Carolina Writers on the Places They Love, Volume 2 | USC Press
South Carolina is a state of inspiration as well as recreation. Through its natural beauty, storied heritage, and curious character, the Palmetto State finds its way into the hearts and imaginations of every native, resident, and guest to set foot on its thirty-two thousand square miles of soil.
Books will be available for purchase and signing. All programs will take place from noon to 1:00 p.m. at the South Carolina State Library located at 1500 Senate St., Columbia. Speaker @ the Center is FREE and open to the public.