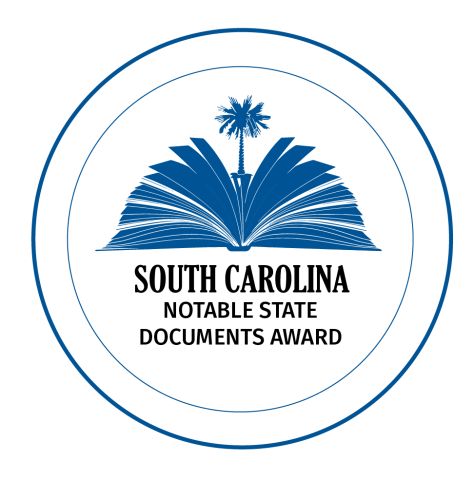 The South Carolina State Library is pleased to announce the selection of the most notable South Carolina State Documents of 2021. Government documents come in a variety of formats and winning categories include state agency monographs, serials, and websites or apps. Winners of the South Carolina Notable State Documents awards are announced in honor of Freedom of Information Day, which occurs annually on March 16. These noteworthy publications call attention to the most informative documents released by state agencies in 2021. Awards will be presented to the winning agencies and authors in a virtual ceremony on a date soon to be announced.
Nominations for the Notable Documents Awards were submitted throughout the year, with final candidates being judged by a panel of librarians and state employees. Candidates were judged based on their designs, writing styles, and breadth of information. The judges chose a unique group of twelve documents for recognition, including a workbook style publication which assists with the farm transfer process, a book of quick and healthy recipes with a Southern flare, a long running and popular wildlife magazine, and a website which assists with protection during a severe weather event.
Leesa Aiken, South Carolina State Library director said, "South Carolina state documents provide a wealth of information, statistics, and share a broad range of knowledge about our state. I am pleased that we are able to publicly recognize these important publications and websites as notable documents and it is my hope that all South Carolina state agencies continue to produce high quality documents such as these."
Monographs (physical or born digital)
Serials
Websites
South Carolina Hurricane Guide Website I SC Emergency Management Division.

South Carolina residents have a new, state-of-the-art tool to help them be better prepared for hurricanes. The South Carolina Emergency Management Division launched hurricane.sc, an interactive website designed to guide people through the fundamentals of being prepared for hurricanes and tropical storms. Designed to be a quick, adaptive and flexible online reference, hurricane.sc is accessible on a desktop computer, a smartphone or a tablet. "People in potentially vulnerable areas will be able to use this new site along with our other resources to update their emergency plans, know what evacuation zone they're in and make informed decisions about their personal safety," SCEMD Director Kim Stenson said. "Hurricane.sc is another tool in the toolbox for people to use when becoming their own emergency managers and being personally prepared for hurricanes."

South Carolina Revenue and Fiscal Affairs Office Website I South Carolina Revenue and Fiscal Affairs Office.

In 2014, the South Carolina General Assembly established the Revenue and Fiscal Affairs Office (RFA) as part of restructuring the Budget and Control Board. RFA is responsible for providing diverse sets of fiscal and statistical analyses, reports, and other services to the Governor, General Assembly, state and local government entities, the private sector, and the citizens of the state. The agency has a staff of approximately seventy-five comprised of analysts, statisticians, epidemiologists, database administrators, web developers, GIS analysts, economists, surveyors, and project and program managers.

South Carolina Forestry Commission Website I South Carolina Forestry Commission.

This new web presence is the product of a complete makeover. Everything from the design and the content to the responsiveness and functionality are significant improvements over the site the agency had for more than 20 years. The website is engineered to present the best possible viewing experience for users, regardless of the device, be it a phone, tablet or desktop computer. The development keyed in on the main functions of the agency. Users will immediately notice a slimmed-down main menu corralling all previously available information into five primary solos. All of the changes amount to a very user-friendly experience.