Share:
Date:
Thursday, August 13, 2020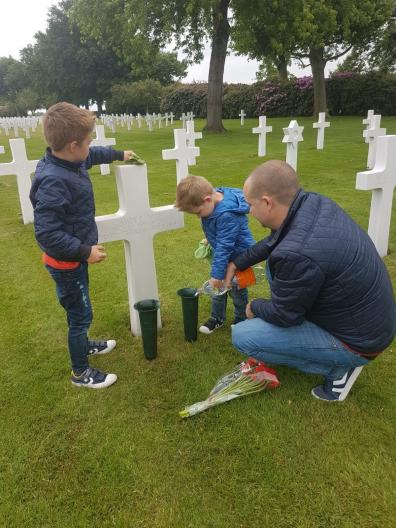 The South Carolina State Library requests assistance from families who have a loved one who was killed in World War II and is buried in the Margraten Cemetery in the Netherlands. The Margraten Cemetery holds the remains of 8,301 American soldiers who valiantly crossed the border near the town of Mesch (a village in the Netherlands) on September 12, 1944, which became the first town to be liberated. However, it would take until May 5, 1945, before the country was fully liberated.
As a tribute to the fallen American soldiers, the Margraten Cemetery has a long tradition of honoring these soldiers with a grave adoption program, which received an important designation from the government of the Netherlands. The grave adoption program began informally at the cemetery at the end of World War II. Beginning around Memorial Day 1945, local Dutch citizens near Margraten began bringing flowers to graves at the cemetery to honor the American sacrifice. In the decades since, the program has formalized with every headstone and name on the "Wall of the Missing" having been adopted. The grave adoption program has become woven into the fabric of life in the Limburg region of the southern Netherlands. The person who adopts the grave often places flowers multiple times a year, and usually tries to research the soldier, with the hope of learning their story. These adopters do not physically care for the gravesite, rather they "adopt" the memory of the soldier into their own family, keeping their legacy alive in the Netherlands.
While many of the buried soldiers are memorialized with a photograph next to their headstone, there are many soldiers who have not been facially identified. In 2018, more than 5,800 photos were on display. The State Library is working to assist the Faces of Margraten project to provide a photograph for the buried soldiers from South Carolina who do not have a photograph at their grave. If you or someone you know has a photograph of a South Carolina soldier listed below, please scan and email the photograph, and include the soldier's name, to our Reference Department at reference@statelibrary.sc.gov. In the subject line, please include "Margraten". Our reference librarians will collect the images and send them to the Faces of Margraten project. We would like for all of the soldiers from South Carolina to be recognized and honored for their sacrifice.

AUSTIN, Eugene- Greenville County
BERRY, William L- Oconee County
BURTON, James D Jr- York County
COX, Clarence W- Abbeville County
CROW, Napoleon- Pickens County
DAVIS, Roy F- Chester County
DILLARD, George O- Greenville County
DOUGLAS, Walter- Florence County
DOZIER, Allan M- Clarendon County
FINLEY, James C- Laurens County
FORD, William E- Florence County
FOSTER, Todd S- Greenville County
GARNER, Layton Y- Union County
HIGGINBOTHAM, J P- Anderson County
INGRAM, Gerald H- Jasper County
ISGETT, Harry E- Florence County
LEVINSON, Moses- Charleston County
MATSON, Robert P Jr- Charleston County
McCOLLUM, William- Pickens County
MEDFORD, William E- Union County
REID, James W- Laurens County
RUDISAIL, Charles A- Spartanburg County
SMITH, Albert C- Richland County
SMOAK, Clarence- Colleton County
TALBERT, Clyde- Kershaw County
TRIPP, John R- Anderson County
ULMER, Charles E III- Beaufort County
WARTERS, Charley- Jasper County
WEST, Clarence E- Charleston County
WHITE, Henry V- Charleston County
WHITMAN, Duane- Lexington County
WHITTLE, James- Lexington County
YARBOROUGH, Thomas W- Fairfield County