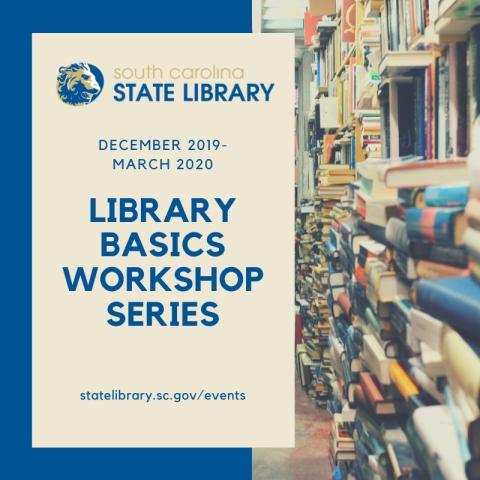 The South Carolina State Library is pleased to announce a new series of workshops (December 2019 – March 2020) to be held at regional locations around the state, focusing on basic library skills. The workshops are aimed at library support staff, those who are new to libraries, and individuals who would like to just brush up their skills. Each class will be small and hands-on, with practical material for everyday library work. Participants may attend one or more topics throughout the series. Most workshops are 10:00 a.m. to noon unless otherwise indicated and are free to public library staff members.
Part 1: Front Desk Basics (December)
Working at a library is different from other customer service jobs, even if many of the same skills apply. Participants will learn:
The role of the library in the community and some common or unusual services libraries provide
How to address problems like patrons with overdue fines or being unable to provide the book a patron wants
Practical ethics including patron privacy, equitable access to library resources, and censorship questions
Dates/Locations:
Part 2: Reference Skills (January)
Go beyond the basics of looking up books. Participants will learn:
Effective techniques for a successful reference transaction
Tricks for dealing with unfamiliar technology
Helpful online resources
Dates/Locations:
Part 3: Storytimes and Programs (February)
Programming for children and teens is more than just reading a book to kids. Participants will learn:
Choosing fun, age-appropriate books to read aloud
How to incorporate music and activities into story times
Examples of programs for ages 0-18 years
Dates/Locations:
Part 4: Collection Maintenance (March)
Books are a key part of library services, and they have a life cycle from purchase to discard. Participants will learn:
How books are selected, purchased, and cataloged for the library
Collections beyond books--checking out electronic materials, A/V items, video games, and other materials
How to decide when it's time to remove the book from the collection, and what happens to it afterward
Dates/Locations:
For more information about this new series of specific workshops, please contact Tiffany Hayes, Continuing Education Consultant at (803) 545-4206 or thayes@statelibrary.sc.gov.