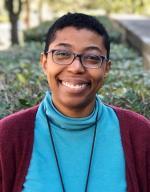 Congratulations to Desire'e Thomas as a recipient of the prestigious South Carolina Library Association's annual Scholarship for Diversity in Librarianship.
The scholarship is awarded annually at the Association's annual conference; however, this year, due to COVID-19, scholarships were awarded early and via email. The Scholarship for Diversity in Librarianship Committee is made up of six members of the association including a past-president, one member each of the Round Table for African American Concerns (RAAC), the Paraprofessional Round Table, the Public Library Section, the College and University Section, and one member at large. Also, the Director of Development of the College of Mass Communications and Information Studies at USC serves as a non-voting ex-officio member.
Thomas is the Electronic Resources Customer Support Specialist for the State Library. She received her Bachelor of Arts in Art Studio from the University of South Carolina in 2009. She is currently working towards her Master's degree in Library and Information Science from the University of South Carolina. Prior to joining the State Library, she worked for Richland Library for six years. She is a member of the American Library Association and the South Carolina Library Association. She enjoys Korean music and dramas, Role Playing Video Games, learning German, and reading speculative fiction. She lives with her family on a cattle farm with a drove of guard donkeys, a clowder of farm cats, and one rambunctious beagle named Dilly.
We congratulate Desire'e as she continues her online studies in library and information science.