Share: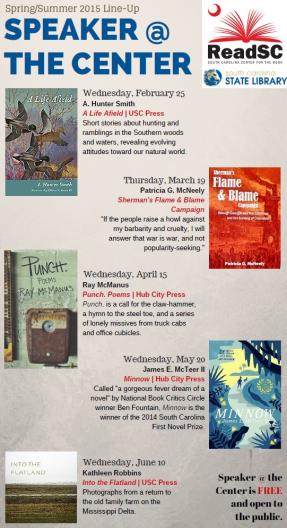 The South Carolina State Library's Center for the Book is pleased to announce its upcoming author line up for the Speaker @ the Center series.  
Wednesday, February 25 - A. Hunter Smith, A Life Afield | USC Press. Short stories about hunting and ramblings in the Southern woods and waters, revealing evolving attitudes toward our natural world.
Thursday, March 19 - Patricia G. McNeely, Sherman's Flame & Blame Campaign. "If the people raise a howl against my barbarity and cruelty, I will answer that war is war, and not popularity-seeking."
Wednesday, April 15 - Ray McManus, Punch. Poems | Hub City Press. Punch. is a call for the claw-hammer, a hymn to the steel toe, and a series of lonely missives from truck cabs and office cubicles.
Wednesday, May 20 - James E. McTeer II, Minnow | Hub City Press. Called "a gorgeous fever dream of a novel" by National Book Critics Circle winner Ben Fountain, Minnow is the winner of the 2014 South Carolina First Novel Prize.
Wednesday, June 10 - Kathleen Robbins, Into the Flatland | USC Press. Photographs from a return to the old family farm on the Mississippi Delta.
Books will be for sale and available for signing.  Speaker @ the Center is FREE and open to the public. All programs take place from noon to 1:00 p.m. at the South Carolina State Library, 1500 Senate Street, Columbia. Please visit statelibrary.sc.gov or call 803-734-8666 for parking information or directions. For more information about Speaker @ the Center, please visit readsc.org.