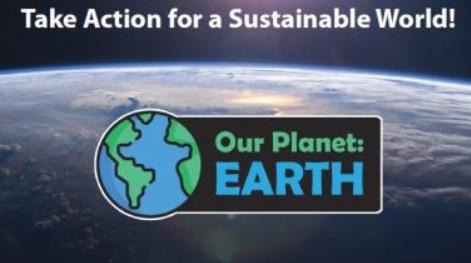 In January 2019, the American Library Association (ALA) on behalf of its members adopted sustainability as a core value of librarianship. To be truly sustainable, a community must embody practices that are environmentally sound AND economically feasible AND socially equitable.
Our Planet: EARTH focuses on citizen science and earth science opportunities during April 2020 to coincide with Citizen Science Month and the 50th anniversary of Earth Day. STAR Net invites libraries and their communities to participate in this important event by utilizing all of our programming resources.
Register your Library to Qualify for the Benefits Listed Below:
A monthly newsletter announcing new resources and opportunities
Our website curated with the best resources (we search so you don't have to!)
Library representation on STAR Net's Our Planet: EARTH Map
Automatic entry for a chance to win Scholastic Earth Science books, NASA Earth science tactile books, and more! The first 2,000 registrants will receive the popular 'Planets to Planets' game, developed by the STAR Net team (it's like Apples to Apples)
An opportunity to qualify for another free game (see the event webpage for details)
For more information, please visit the STAR Net website.