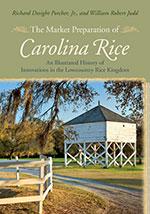 The South Carolina State Library's Center for the invites you to Speaker @ the Center at noon on Thursday, September 25.
Richard Dwight Porcher, Jr., and William Robert Judd will discuss their book, The Market Preparation of Carolina Rice: An Illustrated History of Innovations in the Lowcountry Rice Kingdom (USC Press). This is the first book to illustrate and describe the implements and machines used to prepare Carolina rice for overseas markets.
Books will be available for purchase and signing. All programs will take place from noon to 1:00 p.m. at the South Carolina State Library located at 1500 Senate St., Columbia. Speaker @ the Center is FREE and open to the public. Feel free to bring your lunch.
The South Carolina Center for the Book is the South Carolina Affiliate of the Library of Congress Center for the Book and is a cooperative project of the South Carolina State Library, the University of South Carolina School of Library and Information Science, and The Humanities CouncilSC.