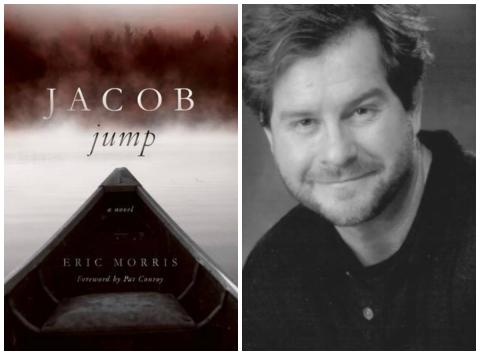 Join us on Thursday, February 25, from noon to 1:00 p.m. for Speaker @ the Center, featuring author Eric Morris. Jacob Jump, the dark and meticulously crafted first novel from Eric Morris, follows a weeklong ill-fated boating trip down the Savannah River from Augusta, Georgia, to the lighthouse at Tybee Island. Chance and danger trump planning and intention at every turn, and the pull of the historic river and of fate itself propels Morris's characters with unrelenting force.
Old friends Thomas Verdery and William Rhind, each seeking temporary escape from the failures of their lives, take to the river with Rhind's father. Verdery, a native Southerner, has left his job and lover in Nepaug, Connecticut, while Rhind has lost his wife and child to his drinking. Encounters with dangerous weather and unhinged locals imperil the trio, who are held at gunpoint when they try to dock and soon are fighting among themselves. The hazards of the trip and a shocking loss along the way exacerbate William Rhind's drinking and tendencies toward violence. When Verdery and Rhind must become reluctant custodians of young Caron Lee, a lost girl from the backwoods family that had previously accosted them, tensions build toward explosive ends as the serene open waters of the Atlantic Ocean wait just beyond reach on the unknown, unknowable horizon.
Guided by a host of influences from William Faulkner and Ernest Hemingway to Cormac McCarthy, James Dickey, and Ron Rash, Morris's prose brings readers deep into the uncertainties of a still-wild Southern landscape and of the frailties of the human heart yearning for past and future alike while pulled along by the inescapable current of the present. Best-selling writer and Story River Books editor at large Pat Conroy provides a foreword to the novel.
A native of Augusta, Georgia, Eric Morris is a production designer for the stage and teaches at the University of South Carolina. Morris holds an M.F.A. from Western Illinois University and a B.A from Augusta College. His professional work includes productions for dance, theatre, opera, live music stages, and trade shows. Morris writes and records as one half of the musical duo Classes of Dynamo. He lives with his wife and son in Columbia, South Carolina.
Books will be available for purchase and signing. All Speaker @ the Center programs take place at the South Carolina State Library located at 1500 Senate St., Columbia. Speaker @ the Center is FREE and open to the public.
For additional Speaker @ the Center events, please visit readsc.org/events.