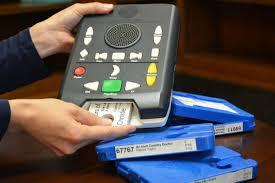 The South Carolina State Library's Talking Book Services (TBS) Program is now serving patrons with an innovative new service called Duplication on Demand (DoD). DoD allows patrons to receive almost any book available on BARD (Braille and Audio Reading Download). When patrons order books or automatic selection orders books for patrons, they are recorded on a cartridge and sent out within a few days. There's no waiting for other patrons to return a copy; all downloadable books are always available. Patrons may also receive a whole series on one cartridge.
Over the coming months, the Talking Book Services staff are starting to move all established audio readers to DoD. This more efficient service model is being introduced to NLS (National Library Service for the Blind and Print Disabled) network libraries nationwide. When fully implemented, it will improve the program's carbon footprint and provide a more customized experience for each reader.
TBS Reader Advisors are prepared to coach patrons through the transition process and talk with them more extensively about their reading needs to provide as many appropriate book matches as possible.
More details about DoD:
Staff members are working to transition all TBS patrons by March 31, 2021.
Each patron may have up to three cartridges in mail rotation at once.
Each cartridge may contain up to 25 books.
For more information, please contact us at TBSBooks@statelibrary.sc.gov, or call us at (800) 922-7818.