Share: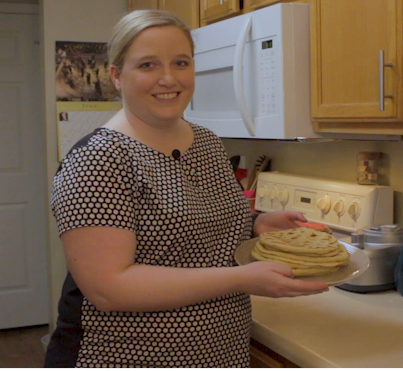 Naan Flatbread
2 tsp. active dry yeast
1 tsp. sugar
1/2 cup warm water
2- 2 1/2 cups of flour (approximately)
1/2 tsp. salt
1/4 cup olive oil
1/3 cup plain yogurt (preferably greek yogurt)
1 large egg

In a small bowl combine yeast, sugar, and water. Stir to dissolve let sit for approximately five minutes (until frothy on top). Stir in oil, egg, and yogurt until combined.
In a medium bowl, combine one cup of the flour with salt. Pour the wet ingredients in the bowl with the flour, and stir until combined. Continue adding flour, 1/2 cup at a time, until you can no longer stir with a spoon. It will be about an additional cup or so. When you can no longer stir with a spoon, turn the dough onto a floured surface and knead for about three minutes, adding flour if necessary to keep the dough from sticking. You may use up to an additional 1/2 cup of flour. The dough should be smooth and soft, but not sticky. Put the dough back in a bowl and loosely cover it before allowing the dough to rise in a dry, warm place for about an hour. After it rises, gently flatten the dough into a disc and cut into 8 equal pieces. Shape each piece into a small ball.
Heat a large heavy bottomed skillet over medium heat. Working with one ball at a time, roll the dough out until it is about a 1/4 of an inch thick or six inches in diameter. Place the rolled out dough in the hot skillet and cook until the bottom is golden brown and large bubbles have formed on the surface. Flip the dough and cook the other side until golden brown as well.
Stack the cooked naan breads on a plate and cover with a towel to keep warm. Eat with your favorite dip, use for personal pizzas, or any other way that you enjoy.