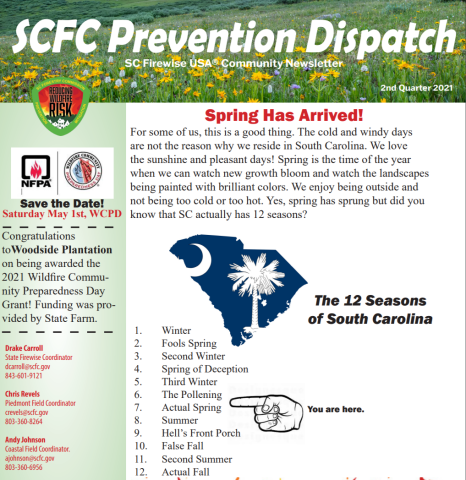 The South Carolina Forestry Commission harvests interest on the first page of its second-quarter newsletter, the SCFC Prevention Dispatch, making it our choice for the September featured state document. Say so long to four seasons; this issue introduces us to the 12 seasons we experience in the Palmetto State. Further, the document illustrates how residents can protect property from wildfires and reports on upcoming changes and events. Fire prevention is everyone's responsibility, and this easy-to-read document makes it simple for us all to do our part.
The complete September 2021 list of new South Carolina state documents is available. The South Carolina Digital State Documents Depository provides access to state agencies' publications. These publications offer citizens crucial information about state government, including statistics, annual accountability reports, and data on a wide variety of topics related to the state.
For more information about our documents depository, visit our online guide.