Share: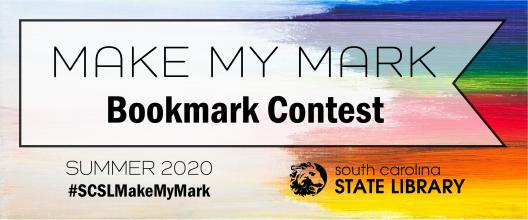 The COVID-19 pandemic prompted a unique appreciation for the joys we experience while sharing our talents and hobbies. The South Carolina State Library invites students to enter the Make My Mark bookmark contest to showcase their creativity and love for stories.
The rules are simple: South Carolina students may use any approved medium to create a visual tribute to their favorite story following our bookmark template. Stories featured in the design can be favorites from early childhood to present day. One winner will be chosen from the elementary, middle, high school, and college levels to ultimately have their illustration featured on an official South Carolina State Library bookmark. All entries will be on display later as an exhibit at the South Carolina State Library.
The contest is open from now until May 22. Bookmark templates are available on our contest page. Once complete, you may submit your entry electronically following our guidelines or send it to our mailing address by the deadline. Also, share your artwork on social media using the hashtag #SCSLMakeMyMark!