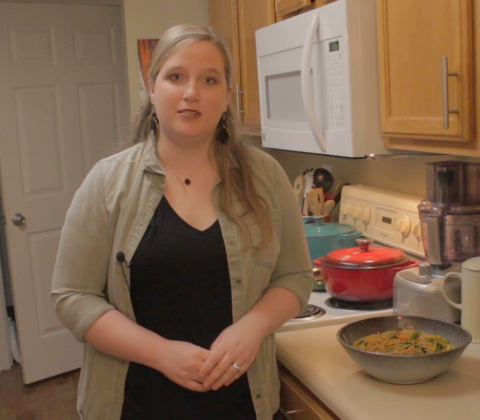 Since your family spends so much time at home, everyone may be tired of the same recipes. Branch out and try something new. Lyndsey Maloney from Horry Memorial Library prepares an at-home Lo Mein for this SC Read Eat Grow featured recipe. Follow along and enjoy a taste of this simple dish that is quick to prepare and full of healthy vegetables.

Lo Mein

Sauce
6 tbsp dark soy sauce
3 tbsp light soy sauce
3 tsp sesame oil
3 tsp sugar

Lo Mein
6oz box Lo Mein noodles
1 tbsp sesame oil
3-4 cups chopped vegetables (bite size pieces) such as carrots, red peppers, broccoli, zucchini, and edamame
2 tbsp mirin


Sauce: whisk all ingredients in together in a jar.
Noodles: Cook the noodles according to package directions. Drain and Set aside.
Lo Mein: Heat sesame oil in large skillet. Add vegetables to the hot pan and stir fry until fork tender, about 5-6 minutes (if using edamame, add those in towards the end of the stir fry time as they just need to heat through). Add Mirin to loosen the browned bits off the bottom of the pan. Add the cooked noodles and about half of the sauce, toss to combine. Add more sauce if desired. I usually use all of the sauce.

Use ramen, Lo Mein noodles, or spaghetti noodles, whatever you can find on your shelf.
If you do not have light and dark soy sauce, you can just use one kind of sauce, just make sure you have the total amount of soy sauce.
Use any vegetables you and your family prefer.