Share:
Date:
Wednesday, August 12, 2020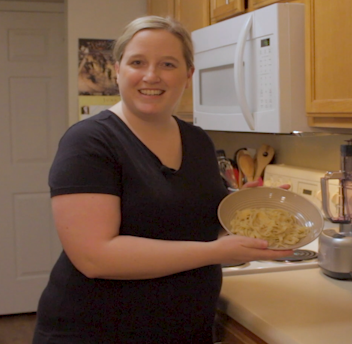 Nothing says scrumptious like a rich, creamy bowl of pasta with alfredo sauce. But who needs all of the calories? Follow along as Lyndsey Maloney slims down this dinnertime delight with a SC Read Eat Grow virtual cooking lesson. It is truly fantastico!
Ingredients:
12 ounces of fettuccine (or any type pasta)
1 tbsp olive oil
4 cloves garlic, minced
3 tbsp. flour
1 cup chicken or vegetable broth
1 cup low-fat milk
3/4 c. freshly-grated Parmesan cheese
1/2 tsp. salt
1/4 tsp. black pepper
Directions:
Cook pasta al dente according to package instructions, in salted water. Heat olive oil in large sauté pan over medium-high heat. Add garlic and sauté one minute stirring occasionally. Sprinkle with flour and stir to combine. Sauté for an additional minute to cook the flour, stirring occasionally. Slowly add broth and milk, whisking to combine until smooth. Bring the mixture to a simmer. Let cook for an additional minute or so until thickened, then stir in parmesan cheese, salt and pepper until the cheese is melted. Reduce heat to medium low until pasta reaches al dente. Drain pasta and add to the sauce. Toss to combine.