Share: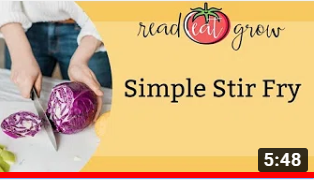 Our SC Read Eat Grow Program is going virtual. Each week we will deliver fresh new recipe ideas to your desktop. Posts will include a video that demonstrates how to prepare a featured recipe and a link to a list of ingredients and preparation instructions. This week's video showcases a recipe for a simple stir fry. You can find posts on our website, in weekly email updates, and on social media using the hashtag #SCReadEatGrow. The kitchen is the heart of the home. Keep yours beating by preparing healthy recipes with your family.
Simple Stir Fry
Rebecca Antill
1-2 cups chopped vegetables of your choice (1 carrot, 1 yellow onion, 1/3 of a green pepper, 1 stalk of celery)
½ of a boneless skinless chicken breast, sliced thin
2 tablespoons olive oil
1 tablespoon low sodium soy sauce
Ginger powder
Garlic powder
1 tablespoon cornstarch and ¼ cup cold water
Slice chicken and sprinkle with approximately 1 teaspoon each soy sauce, ginger and garlic powder. Leave to marinate in refrigerator for at least an hour.
Chop vegetables in bite size pieces, heat 1 tablespoon oil in large pan over medium-high heat. When oil is hot, add vegetables and stir until they are just softened, 3-5 minutes. Pour into a bowl and set aside.
Heat 1 tablespoon oil in the same skillet and add chicken when oil is hot. Cook, stirring, until cooked through and then add vegetables and additional ginger and garlic powder to taste. Stir together cornstarch and water and add to pan, allow sauce to heat and thicken.