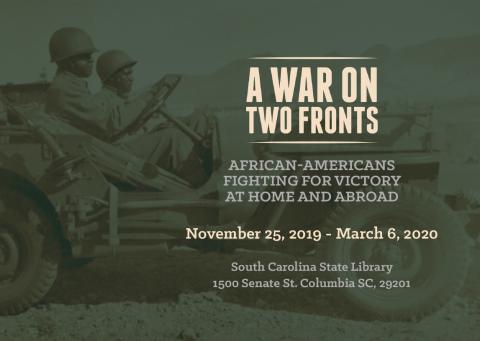 There is a strong history behind the more than one million African Americans who served during World War II. The South Carolina State Library will explore the stories, struggles, and accomplishments of these soldiers when it hosts A War on Two Fronts: African Americans Fight for Victory at Home and Abroad, an Athenaeum Press traveling exhibition from Coastal Carolina University. A War on Two Fronts is on display now through March 6, 2020.
A War on Two Fronts explores how African Americans in the 92nd and 93rd Army infantry divisions fought for racial equality during wartime, and then went on to be active participants in the Civil Rights Movement. It traces the little-known stories of soldiers who served on the front lines, and how segregation affected their training, service and recognition. The exhibition draws from the work of Dr. Maggi Morehouse, Burroughs Distinguished Professor of Southern History and Culture at Coastal Carolina University, and a daughter of a commanding officer in the 92nd infantry division. Morehouse interviewed more than 40 soldiers and their families on their experiences. Her archive will become part of the collection at the Library of Congress. The exhibit includes historical photographs, interviews with soldiers, film, audio and interactives, to tell the compelling story of the life of a black soldier during WWII.
Where: South Carolina State Library, 1500 Senate Street, Columbia, SC
When: Now through March 6, 2020
Time: Monday through Friday, 8:30 a.m. to 5:00 p.m.