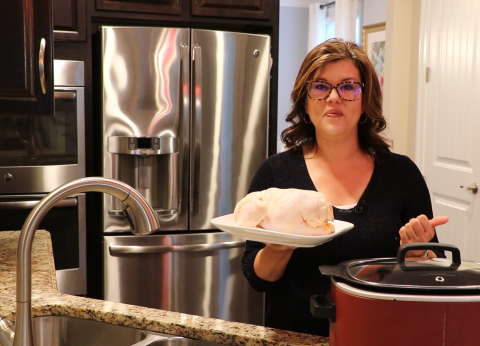 Even though you are at home more, it's summer and you want to enjoy the longer days. Let your slow cooker help you cut your cooking time. Watch this SC Read Eat Grow video to learn how to make roast chicken one night, and then prepare a healthy homemade broth that is perfect for a hearty soup the next night. The recipe is simple, nutritious, and full of flavor, making it a true SC Read Eat Grow favorite.
Slow Cooker Roast Chicken
1 whole chicken
cooking spray
1 tbsp. garlic powder
1 tbsp. paprika
1 tbsp. oregano
1 tsp. black pepper
1 tsp. salt
Spray the inside of the slow cooker with cooking spray. Place the whole chicken inside of the slow cooker. In a small bowl, mix seasonings together. Sprinkle blended seasoning mix on top of the chicken. Cover slow cooker and set to low power. Cook for six to eight hours.

Chicken Broth
Chicken carcass with meat removed
5 cups of water
Place chicken carcass in slow cooker. Add water and cover. Set slow cooker to low heat for the maximum time setting. Once cooking is finished, drain the broth and place in a large bowl. Let the bowl chill in the refrigerator for several hours to allow the fat to rise to the top. Use a spatula to scrape the fat from the top of the broth. It will be "jelly-like" at first, but consistency will return to normal once the broth is heated. You may use the broth immediately or freeze for future use.