Share: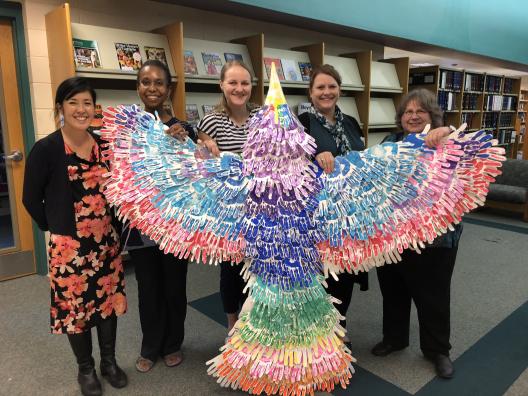 In response to winning the 2018 Association for Library Service to Children Maureen Hayes- Author/Illustrator Visit Award, the South Carolina State Library welcomed author and illustrator Kathryn Otoshi to the South Carolina School for the Deaf and Blind. Otoshi is known for several acclaimed books including Zero, One, Two, Beautiful Hands and Draw a Line. While visiting South Carolina, she recorded those books for the Talking Books Services (sctalkingbook.org) and a podcast for LibraryVoicesSC with Dr. Curtis Rogers (libraryvoices.podbean.com).
Prior to her visit, students from the South Carolina School for the Deaf and Blind cut out decorated handprints to be part of a spirit bird project in the school's library. In response, Otoshi said, "We can see how that commitment of doing one kind thing multiplied by many handprints, and seeing that tangible art project that they were a part of visually every day, becomes a constant reminder of how we can spread this love, compassion and connection with each other."
The ALSC selection committee was impressed by The South Carolina State Library's commitment to serving underserved populations in innovative and effective ways. Its Maureen Hayes Author/Illustrator Visit award provided the funds to bring Kathryn Otoshi to South Carolina.
Photo: L-R, Kathryn Otoshi, SC State Library staff members: Brenda Boyd, Allie Lovette, Denise Lyons, and Sandy Knowles.