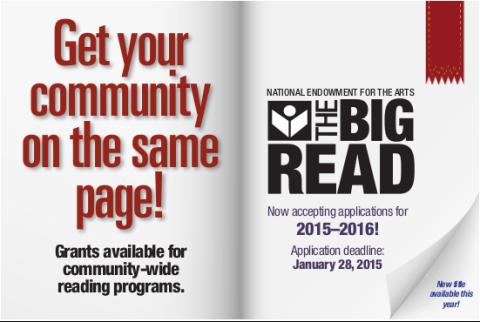 The Big Read is accepting applications from non-profit organizations to develop community-wide reading programs between September 2015 and June 2016. The Big Read is a national program designed to revitalize the role of literature in American culture and to encourage reading for pleasure and enrichment.
Organizations selected to participate in The Big Read receive a grant, access to educational and promotional materials, and online training resources and opportunities. Approximately 75 organizations from across the country will be selected.
Application deadline: January 28, 2015.
To review the Guidelines and Application Instructions and discover all 37 titles available for selection this year, visit www.NEABigRead.org.
Questions? Call Arts Midwest at 612-238-8010 or email TheBigRead@artsmidwest.org.