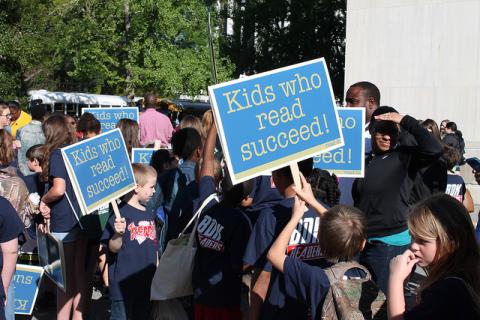 More than 2000 students from across the state will gather at the South Carolina State House on Tuesday, April 2, to celebrate reading at the 2019 South Carolina Read-In. This annual event, sponsored by the South Carolina State Library and the South Carolina Association of School Librarians, lets students show why kids who read succeed.
The theme for this year's event is Making Healthier Choices. SHAPES/SC will coordinate a movement activity at the State Library before the parade begins. The Lugoff-Elgin High School marching band will lead the parade and attendees will be joined by the Clemson Tiger Cub, UofSC's Cocky, ETV's SmartCat, Miss South Carolina Teen, and Mrs. South Carolina. The 2016-2017 South Carolina School Librarian of the Year, Angela Durham, will emcee the program at the State House and Ayanna Mayes, 2017-2018 South Carolina School Librarian on the Year, will lead the parade.
Registered groups gather in the State Library's parking lot at 1500 Senate Street between 9:15 a.m. and 9:45 a.m. The parade to the State House begins promptly at 10:00 a.m. and the route follows Senate Street to the State House. The Read-In program ends at 11:30 a.m. and groups are invited to stay at the State House until 12:30 p.m. The registration deadline is March 26, 2019. Please visit ReadSC.org/Read-In for more information.