Share: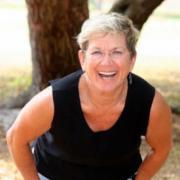 Register today for the workshop, "What's So Funny: Adding Humor to Your Stories" with Pat Nease to be held August 20, 2016, 10:00am-11:30am. Despite an enlarged funny bone, Pat manages to travel around the country entertaining listeners with her unique style, ready wit, original stories, and adaptations of old favorites. She is the recipient of the Florida Storytelling Association's Lifetime Achievement Award and the National Storytelling Networks' Oracle Award for Service and Leadership. Pat is a past president of the Florida Storytelling Association, and a three-time winner of Florida's Liars' Contests. She is active with national, state, and local storytelling organizations, spending most of her time presenting workshops and telling stories at schools, libraries, and festivals. She has presented workshops at NSN's National Conferences, the National Storytelling Festival, as well as an array of regional conferences. She will be a featured teller at Florida Storytelling Association's 2017 Festival.
Brought to South Carolina Storytellers by the South Carolina Storytelling Network and the South Carolina State Library.
For more information and to register online, please visit the SC Storytelling Network website.