Share: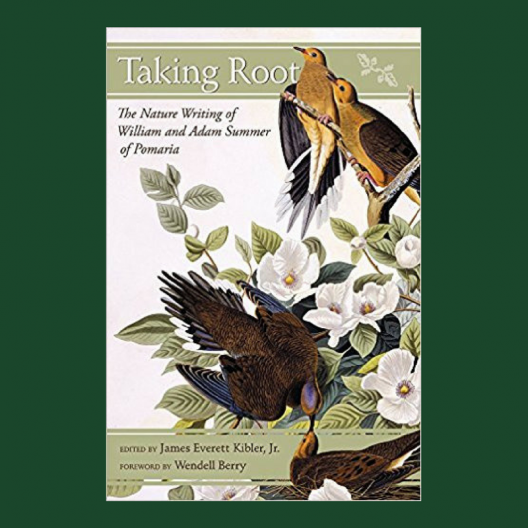 Dr. Curtis Rogers discusses a new University of South Carolina Press book by Dr. James Kibler, Taking Root: The Nature Writing of William and Adam Summer of Pomaria. William Summer founded the renowned Pomaria Nursery, which thrived from the 1840s to the 1870s in central South Carolina and became the center of a bustling town that today bears its name. The nursery grew into one of the most important American nurseries of the antebellum period, offering wide varieties of fruit trees and ornamentals to gardeners throughout the South. Summer also published catalogs containing well-selected and thoroughly tested varieties of plants and assisted his brother, Adam, in publishing several agricultural journals throughout the 1850s and up until 1862. In Taking Root, James Everett Kibler, Jr., collects for the first time the nature writing of William and Adam Summer, two of America's earliest environmental authors. Their essays on sustainable ecology and their respect for Mother Earth have surprising relevance still today.
The Summer brothers owned farms in Newberry and Lexington Counties, where they created veritable experimental stations for plants adapted to the Southern climate. At its peak the nursery offered more than one thousand varieties of apples, pears, peaches, plums, figs, apricots, and grapes developed and chosen specifically for the southern environment, as well as offering an equal number of ornamentals, including four hundred varieties of repeat-blooming roses. The brothers experimented with sustainable farming, reforestation, land reclamation, soil regeneration, crop diversity rather than the prevalent cotton monoculture, and animal breeds accustomed to hot climates from Carolina to Central Florida.
Written over a span of two decades, their essays offer an impressive environmental ethic. By 1860 Adam had concluded that a person's treatment of nature is a moral issue. Sustainability and long-term goals, rather than get-rich-quick schemes, were key to this philosophy. The brothers' keen interest in literature is evident in the quality of their writing; their essays and sketches are always readable, sometimes poetic, and occasionally humorous and satiric. A representative sampling of their more-than-six hundred articles appears in this volume.
Wendell Berry, American novelist, poet, environmental activist, cultural critic, and farmer, provides a foreword.
Dr. James Everett Kibler, Jr., is the author of five novels and a volume of poetry, Poems from Scorched Earth, all with environmental themes. His agrarian chronicle, Our Fathers' Fields, published by the University of South Carolina Press, won the Fellowship of Southern Writers Award for Nonfiction. Kibler has just completed a biography of Adam Summer and is editing William and Adam Summer's garden calendar.
Listen online at Podbean, Stitcher, or TuneIn Radio today! 
Links