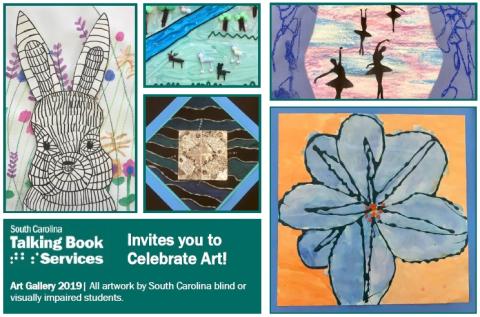 The South Carolina State Library will host a reception and awards ceremony for students, their teachers, and family members for the 2019 Talking Book Services student art exhibit on April 23, 2019, from 11:00 a.m. - 12:30 p.m.
The Library's Talking Book Services student art exhibit features artwork created by blind or visually impaired South Carolina students. The exhibit highlights the artistic abilities of elementary, middle, high, and homeschooled students from across the state.
Guest speaker at this year's awards ceremony will be Olga Yukhno. Yukhno is an artist originally from Pyatigorsk, Russia. It was in Russia that her passion for art began. Inspired by the culture of her home country, she started by working with batiks, stained glass, and enameling. She studied under world-renowned enamellist, Nikolai Vdovkin for several years to hone her skills, before moving to the United States in 2008. In the US, she fell in love with ceramic sculpting. It allowed her to experiment, and fuse together old-world artistry with her skills and abilities across a wide variety of art forms to create totally new and unique mixed media pieces.
Over the years, Olga has traveled to over 40 countries. It is in these travels that she gets the most inspiration, drawing on the uniqueness and culture of every new place she visits. She finds ways to incorporate those cultural nuances into each new piece she makes.
As a member of the International Federation of Artists, Yukhno has taken part in many shows and exhibitions in both Russia and the United States. In 2006, she won the International Design Contest for Traditional National Costumes in Moscow. She has been featured in multiple solo exhibitions, including at the Bascom Art Center, and several galleries in North and South Carolina. She has completed courses and taught at the John C. Campbell Folk School in North Carolina, and has studied under many acclaimed sculptors in the southeast. Currently, she also works as a director of the McMaster Gallery at the University of South Carolina.
Nine students, chosen by State Library staff members, will receive awards during the ceremony. State Library Director Leesa Aiken will also announce one of the art pieces for a permanent display in the Library. The Talking Book Services student art exhibit is just one of several programs the Library organizes to make sure all of South Carolina's residents get their chance to shine. Visit the State Library's flickr album to see photos from last year's awards ceremony.
For more information about the student art exhibit and awards ceremony, please contact Brenda Boyd, Talking Book Services Reader Advisor Librarian, at bboyd@statelibrary.sc.gov or 803-734-621.