Share: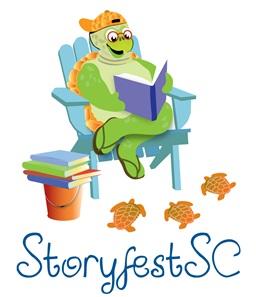 The South Carolina State Library is proud to announce award-winning authors John Rocco and Anna Dewdney will be featured at StoryfestSC 2015—the state's summer reading kick-off event. This year's Collaborative Summer Library slogan is Every Hero Has A Story, celebrating heroes and community heroes.
StoryfestSC exposes families to children's authors and the art of story, and fosters an excitement for reading, especially throughout the summer. All of South Carolina's public libraries participate in this coordinated summer reading program.

John Rocco studied illustration at Rhode Island School of Design and The School of Visual Arts. In addition to writing and illustrating his own picture books, including the New York Times best-selling and Caldecott Honor-winning Blackout, he has created all of the cover art for Rick Riordan's best-selling Percy Jackson, Kane Chronicles, and Heroes of Olympus series. Before becoming a full-time children's book creator, he worked as an art director on "Shrek" for DreamWorks, and for Disney Imagineering. John lives in Los Angeles with his wife and daughter.

Anna Dewdney is the bestselling author and illustrator of over 15 award-winning children's books, most notably the Llama Llama series. Her stories have been adapted into several theatre productions and have been translated into more than ten foreign languages. Before writing and illustrating her own work, she illustrated several books for other writers. Anna is a strong advocate of literacy and, in addition to speaking across the country on the importance of reading for children, she has published articles about this topic in several publications including the Wall Street Journal. She is the mother of two daughters and several dogs, and lives in Vermont.
StoryfestSC will be held on Saturday, June 6 at the South Carolina State Museum at 301 Gervais Street from 9:00 a.m. to 4:00 p.m. and will be free to the public. Events include presentations and book signing by each author, storytelling for all ages, crafts, face painting and visits from literacy friends Cocky and ETV's SmartCat.