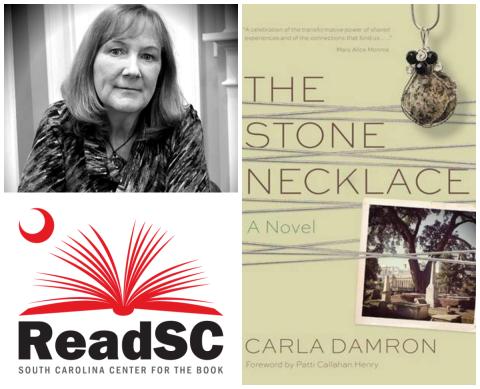 Join us on Wednesday, March 2, from noon to 1:00 p.m. for Speaker @ the Center, featuring South Carolina author Carla Damron. The Stone Necklace, published by Story River Books,braids together the stories of a grieving widow, a struggling nurse, a young mother, and a troubled homeless man, reminding us of the empowering and surprising ways our lives touch one another and how, together, we can recover from even the greatest of losses.
Carla Damron relates the stories of four people in Columbia, South Carolina, whose seemingly disparate existences intersect through tragedies realized and tragedies averted. Lena Hastings survived breast cancer and marital infidelity but now faces an uncertain future and crises with her teenaged daughter Becca without the support of the one person she has always counted on. Intensive care nurse Sandy Albright, newly released from drug rehab, confronts temptations from her past and false accusations threatening her career, leaving her to wonder if a drug-free life is really living. Tonya Ladson, a mother whose child is injured in the wreck, must decide if her domineering husband is right and a lawsuit will solve their financial problems. Joe Booker, a homeless man who sleeps in a graveyard, loses his gentle benefactor and must either succumb to the real and imagined evils of his world or find the heretofore-untapped courage to care for himself and for others as a stranger once cared for him. Weighted down by their respective pasts, the characters must make life-altering choices that reverberate in the fates of the others, ultimately bringing them together in unexpected but healing acts of compassion, forgiveness, and redemption.
The Stone Necklace includes a foreword from former nurse turned New York Times best-selling novelist Patti Callahan Henry.
South Carolinian Carla Damron is a fiction writer, clinical social worker, and author of the Caleb Knowles mystery novels Keeping Silent, Spider Blue, and Death in Zooville in which she explores addiction, homelessness, and other social issues. Her short stories have appeared in Fall Lines, Six Minute Magazine, Melusine, In Posse Review, and other journals. Named the 2014 South Carolina Social Worker of the Year, Damron holds an M.F.A. in creative writing from Queens University and a master's degree in social work from the University of South Carolina.
Books will be available for purchase and signing. All Speaker @ the Center programs take place at the South Carolina State Library located at 1500 Senate St., Columbia. Speaker @ the Center is FREE and open to the public.
For additional Speaker @ the Center events, please visit readsc.org/events.