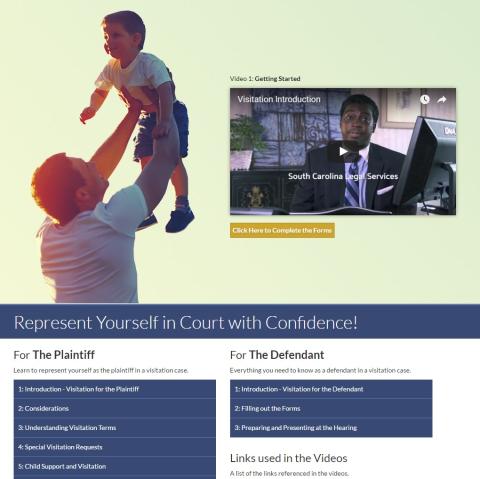 The South Carolina Center for Fathers and Families has launched a new website, http://scvisitation.com/, which offers free online forms and instructions with video introductions to assist non-custodial parents to request visitation rights through the South Carolina courts even when they cannot afford an attorney.
The forms and instructions developed by collaboration of the South Carolina Department of Social Services, South Carolina Legal Services, South Carolina Bar Foundation, South Carolina Court Administration, South Carolina Access to Justice Commission and South Carolina Center for Fathers and Families were approved by the Supreme Court of South Carolina for use in Family Court by people representing themselves.
Going into court, without an attorney, is an intimidating prospect for most people. Add onto that the inability to pay for an attorney and lack of access to forms and instructions, and you have a critical lack of access to the courts. When you have such a barrier for parents, you'll find an overwhelming number of children growing up without access to both parents.
Without a father present, children are more likely to live in poverty, drop out of school, and are at greater risk for delinquency.
How can libraries help?
Post a flyer or poster about the website in a visible and well-used space.
Educate circulation desk and volunteers about the site for patron questions.
Contact the South Carolina Center for Fathers and Families for informational sessions for your patrons.
Host Visitation Clinics in your libraries.
For more information, please contact South Carolina Center for Fathers and Families, 2711 Middleburg Drive, Suite 115, Columbia, South Carolina 29204. Phone: 803.227.8800, Fax: 803.227.8806. info@scfathersandfamilies.com.
Additional contacts: Robin F. Wheeler, SC Access to Justice Commission, rwheeler@scbar.org, 803-576-3808; Terrye Conroy, J.D., M.L.I.S., Assistant Director of Legal Research Instruction, Coleman Karesh Law Library, USC School of Law, 701 Main Street, Columbia, SC 29208, 803-777-1659, conroyt@law.sc.edu.