Share: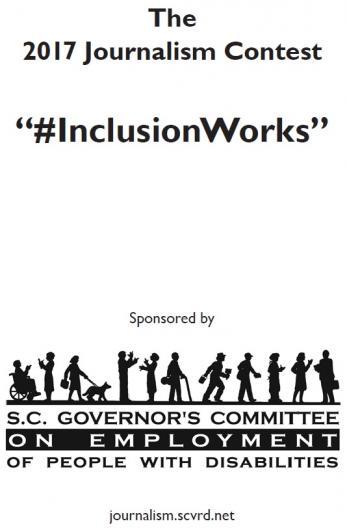 The winner of the 2017 Journalism Contest #InclusionWorks receives a four-year scholarship to the South Carolina state-supported institution of his or her choice provided, of course, that the winner is otherwise qualified.
The scholarship pays for undergraduate tuition and fees. Each institution has its own definition of tuition and fees.
The winner must be able to verify financial need to the chosen state-supported institution, which typically requires completion of a Free Application for Federal Student Aid (FAFSA) form. Colleges and universities recommend that students in financial need complete the FAFSA as soon as possible after January 1 of the year they will enroll to establish eligibility for student aid. This may require providing income tax return information.
Sponsored by the SC Governor's Committee on Employment of People with Disabilities. For more information, please visit http://journalismcontest.net/journalism.