Share: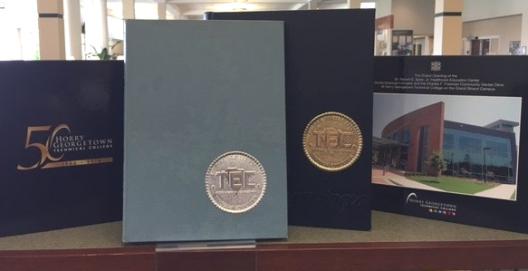 Horry Georgetown Technical College Library is pleased to announce the digitization of the student yearbooks from the Archives Collection at the main campus in Conway, South Carolina. In honor of the College's 50th anniversary, these yearbooks were scanned and are now available in a searchable database within the South Carolina Digital Library. The collection illustrates the growth and progress of the college over the last half century.
A library specialist and two Digital Arts interns spent several months compiling the information, scanning the yearbooks, and modifying the records with the assistance of the South Carolina State Library. HGTC Library thanked the South Carolina State Library for the loan of the flatbed scanner and for providing guidance and on its use and the addition of the metadata that would be necessary.
Horry Georgetown Technical College is a two-year, public coeducational college approved by several accreditation agencies and offers more than 80 associate degrees, diplomas, and certificate programs. Non-credit and corporate training programs are offered through the continuing education division of the College. Founded in 1966, the College has three locations in the northeastern region of South Carolina: Georgetown, Conway, and the Grand Strand (Myrtle Beach).
Enjoy a look into the College's past through this digitization project. For more information, please contact Peggy Saylor, HGTC Assistant Vice President of Library and Learning Support Services at 843-349-5269 or peggy.saylor@hgtc.edu.